HD-TechDat
Western Digital 1" Harddisks
Western Digital OneInch Product Line
Western Digital named their series "OneInch", the drive itself identifies as "Mosquito". According to my research, Western Digital only released one model of 6GB:
Western Digital 6GB OneInch WD60WP-32LPV0
I found a press release from January 2005 stating a planned release for Q2/2005.
Quick links: Harddisk · Performance · Enclosure
The Western Digital OneInch 6GB (WD60WP-32LPV0) comes as CF+ Type II, where CF+ is due to the higher power requirements, and Type II for the extended height of 5mm compared to the standard height of 3.3mm for CF Type I.
The disk has a capacity of 6,144,284,672 bytes (5.72GB). This leads to a count of 12,000,556 sectors that can't be mapped to CHS properly. The disk idientifies as CHS 11905/16/63 leading to only 12,000,240 sectors with 16,066 sectors (8033kB) unusable space in CHS mode. However, the factory formatting used a mapping of CHS 746/255/63, using only 11,984,490 sectors. Supported ATA modes are PIO-4 and MDMA-2. As part of the CF+ specification, the disk reports a maximum power requirement of 300mA.
Western Digital OneInch 6GB CF+ Type II form factor
Western Digital OneInch 6GB CF+ Type II form factor
The diagram below was taken on an ICH6R ATA port using a CF-ATA adapter. The drops during the first media zone show up through other interfaces as well, the best result was achieved through ATA.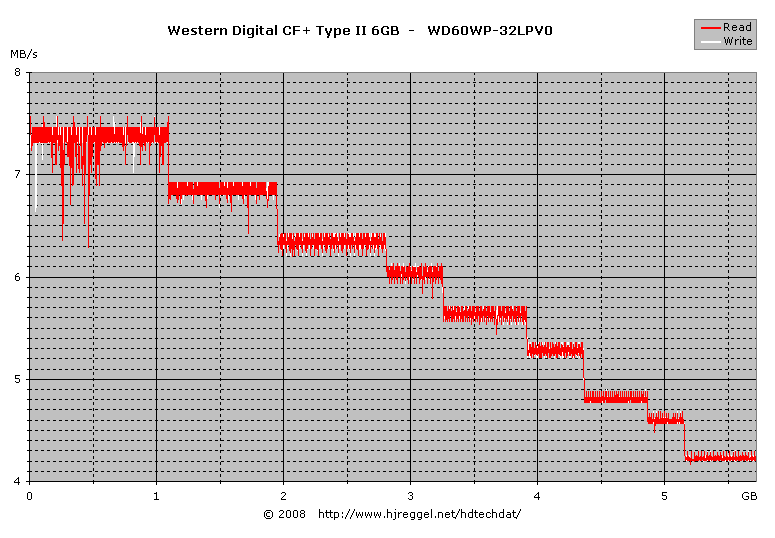 The disk is featured inside the Western Digital Passport Pocket Drive 6GB (WD60W028/WDXMM60WPE). Although the CF interface requires a 50-pin male connector, the PCB only adds 2mm to the height and 4mm at the connector edge. The enclosure sits very tight, making it the second smallest box.
WD Passport Pocket Drive PCB
The board features a Cypress CY7C68300B ATA to USB bridge. The USB plug was attached to the enclosure with a swing-out/rotate mechanism.
WD Passport Pocket Drive PCB, CF Connector
---